Posted by admin on Jan 4th 2022
Choosing the Right Football Goal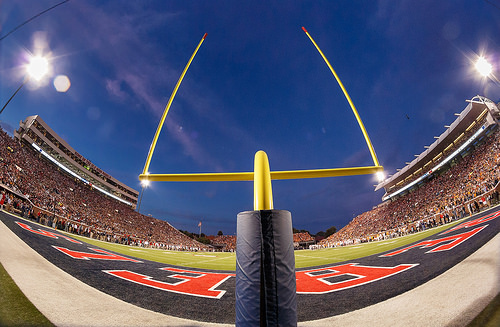 The sport of football, ever evolving, has come a long way from the days when the goal posts were shaped like the letter "H" with a post beneath each side of the crossbar. While the "H"-shaped goal post still exists in some forms, you never see them in pro games or in major college football, and they have largely disappeared from the high school ranks, too.
Types of Goal Posts
When should I buy an "H"-shaped goal post?
Nowadays, the gooseneck goalpost is the standard shape. Still, there are fields and applications where an updated version of the "H"-shaped goal posts may still be the right choice. Specifically, some all-purpose fields that will host as many soccer games as they will football games might be better off with multi-purpose goal posts shaped like an "H" that can accommodate both a soccer net or field goal attempts through the uprights. "H"-shaped goal posts are available in rollaway form when a field needs to be converted from one sport to another, as combination football/soccer posts, as portable field goal kicking refiners specifically made for practicing that aspect of the sport, or classic single high school steel goal posts, which closely resemble the ones commonly used in the sport prior to the 1970s.
Coloring
The more modern gooseneck-shaped goal posts usually come in yellow or white although yellow is becoming increasingly the norm, and may come with or without padded bases beneath the crossbar. If you opt for the padded version of the gooseneck goal posts, it is likely to cost you more, but the tradeoff may be worth it in terms of safety. An inadvertent collision with a padded post may significantly reduce the likelihood of injury compared to the risk of injury with a gooseneck goal post that lacks padding. High School fields often choose the less expensive 6' offset post, while college and professional fields typically have a 7-8' offset. Post size is also a factor. Posts are available in 4 ½", 5 9/16" and 6 5/8" diameters. First Team offers free lettering if you purchase a post pad with your goalpost.
There are also safer, more portable miniature-sized goal posts that are small enough for kids to use in the backyard. These are not regulation, but they might be perfect for younger kids just getting started in the sport.