Posted by admin on Jan 12th 2022
Choosing The Right Sports Seating Solution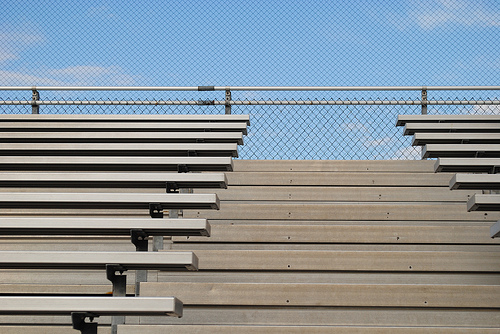 Keep the crowd comfortable and the players, too, with the selection of bleachers and team benches available at First Team. All bleachers and benches sold at First Team are made with aluminum seat and foot planks supported by powder-coated steel underneath the seating structure. Portable bleachers and benches are available at First Team as well as fixed bleachers and benches. If you need player benches or bleachers with powder coated planks customized in your choice of colors, First Team can do that too.
Indoor and Outdoor Bleachers
Bleachers are available for both indoor gyms and outdoor stadiums and field. FanStand offers both Tip N Roll and Outdoor Bleachers. The Tip N Roll model bleachers made for indoor seating use anodized aluminum seat and walk planks that measure 9 5/8" x 1 ¾". Available with single or double wide walk planks, Tip N Roll Bleachers come with 4" tip-n-roll wheels secured to the back seat support so the bleachers are portable. FanStand bleachers do not require a safety railing because no seat is higher than 2 1/2 feet off the ground.
Bleachers Features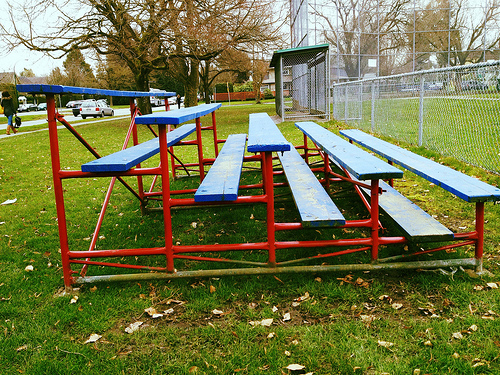 FanStand Outdoor Bleachers available in nine colors and with a limited lifetime warranty also use 9 5/8" x 1 3/4" anodized aluminum planking. The basic framing of the outdoor bleachers is all welded structural angle with bolted cross bracing so that the strength of the bleachers is maximized for end shift loads. The outdoor bleachers come with framing spaced on 6-foot centers and treated wood runners that are bolted to the bottom of each frame for enhanced stability on soft surfaces.
Player Benches
Player benches to accommodate many needs are available at First Team, including portable benches and fixed, in-ground benches. Any bench is available either with or without a back rest, and whatever style you choose comes in a selection of different lengths, so whether you have a large roster or a more limited squad, there's a bench at First Team that will fit your team.