Posted by admin on Jan 5th 2022
Selecting the Location for your new Basketball Hoop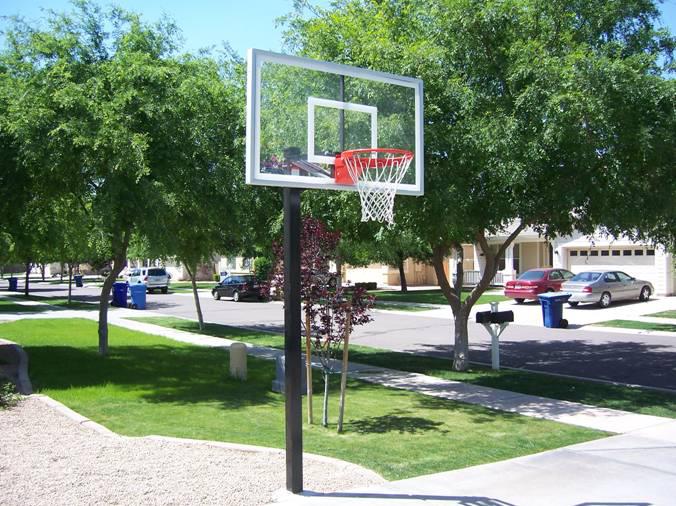 When the time has come for amateur athletes of all stripes to purchase that basketball hoop and backboard that might just transform you from an average Joe into the next NCAA superstar, that long awaited moment also brings with it some tough decisions. One of the most critical is where to install the hoop.
In the Driveway
A basketball hoop can be the ticket to hours of fun right in your own driveway or backyard, but not everybody who has taken the plunge to bring home their own basketball system has thought it through and figured out exactly where the system fits best on your own property. First of all, the kind of system you bought is going to have a big impact on where it goes. For instance, if you purchased an in-ground basketball hoop, your margin for error is, well, nil. You must make sure that the spot you have picked out for your hoop and backboard is the ideal spot, because once you have installed it, going back is costly and a lot of work.
On the other hand, if you have brought home a portable basketball system that is weighted down with a base filled with either water, sand or concrete blocks, you have a little more wiggle room if you decide your initial spot isn't the best and you decide to move it. But even in that circumstance, a rim and backboard setup with a heavy base filled with sand, water or blocks can be tough to keep shifting around, so it's still a good idea to be fairly certain that the spot you choose for the hoop is the right one.
In the Backyard
Is it preferable to have a basketball hoop in my driveway or backyard?
If you have enough room in the backyard, that might be preferable to putting the hoop in the driveway, but this is really only a viable option if you have a concrete area like a court or a patio in your yard. If you have ever tried to dribble a basketball in the grass, you'll understand why. Whether you put the hoop in the yard or the driveway, you'll want to make sure you have a sufficient playing area so that you can take jump shots from straightaway or from either side of the basket. You don't want to put it in a space that's so confined that you are limited to short layups. That's no fun. And you will also want to choose a spot with a surface that's fairly level. Don't put the hoop on a steep slope, hill or any kind of embankment. And, if you have a hoop that mounts to a wall or to the roof, you might want to make sure that it's far enough away from any windows, so none of your shots result in collateral damage.
If you are dealing with limited space, you might want to opt for a hoop with a shorter overhang so you'll have more space in front of the backboard. Most professional grade hoops have an overhang that ranges from 3 feet to 4 feet. Choosing a system with a 4-foot overhang will enable you to set the main pole just off the playing area and still have a regulation 4 feet from the baseline.